This Subwoofer build with Concrete Base uses the concept of a Linkwitz Transform (LT). It essentially boosts the bass output of a subwoofer driver in a smaller sealed enclosure compared to the typical larger enclosure required by a ported enclosure.
I am using a MiniDSP 2×4 to implement the LT. The subwoofer uses a 300 Watt amplifier that I have built a few years ago. The driver is a JBL GT4-12 inch subwoofer and the enclosure is roughly 35 litres sealed.
You can read more on the LT here, or here.
Measuring the Thiele Small Parameters for the JBL GT4-12 subwoofer driver.
Determining the optimum enclosure size for the driver in a sealed enclosure.
Using the Linkwitz Transform (LT) Excel spreadsheet to optimise the LT circuit and performance.
Having cut all the MDF parts, I start to assemble the enclosure.
The nail gun is such a useful tool for assembly work.
Cutting the bamboo plywood cladding.
Applying glue to the bamboo cladding.
With the cladding in place, I can place something heavy on top to keep it down while the glue sets.
The 16mm white Melamine board is used to construct the mould for the concrete base.
Assembling the cut parts of the mould.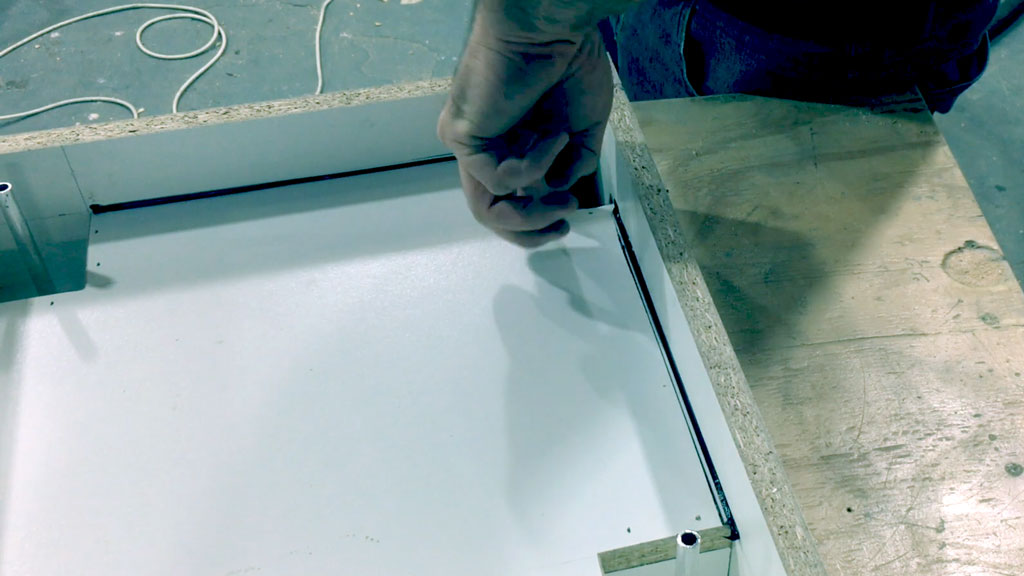 Using silicone sealant to seal all the corners inside the mould.
The concrete is mixed.
Pouring the concrete into the mould.
Tapping the sides of the mould with a rubber mallet to remove all the bubble in the concrete mix.
After having left the concrete to cure for a couple of days, I can remove the mould.
Continuing to clad the enclosure with the bamboo plywood.
I can now router the excess bamboo plywood flush to the edges.
Glueing the baffle to the enclosure.
The jigsaw is used to cut the hole for the plate amplifier.
The enclosure is ready to be finished with a few coats of clear spray lacquer.
Mounting the subwoofer driver.
Installing the plate amplifier.
Inputting the biquads attained from the LT spreadsheet onto the MiniDSP.
The final down-firing enclosure on its concrete base.